View, filter, order, download and edit the form's answers.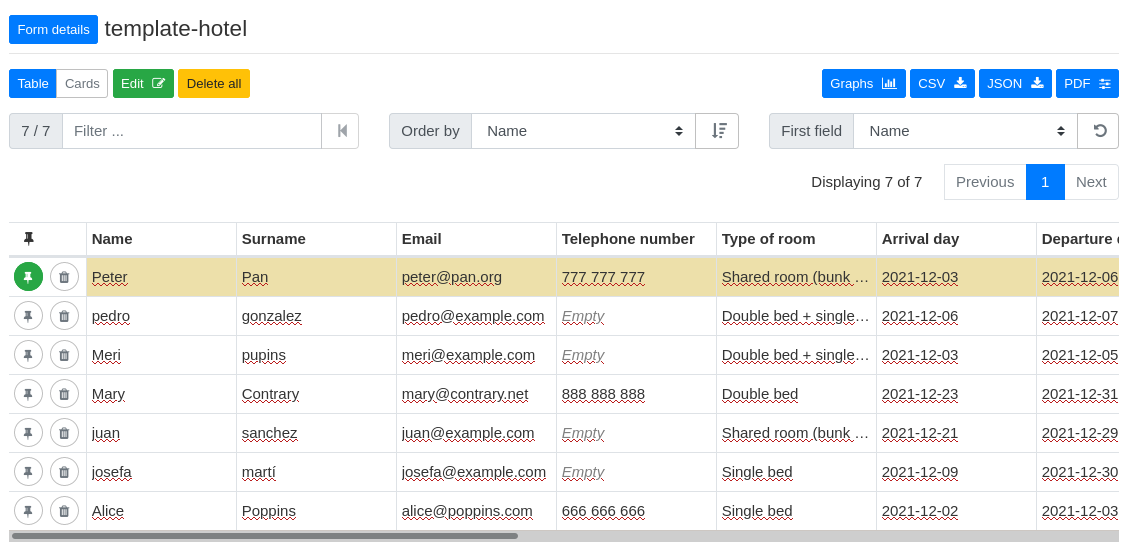 There are two ways to view the answers, as a table or as cards.
Columns
Each column is an element of a particular form. Sort elements by clicking columns or using filters. To facilite visualization, first column is fixed when you scroll horizontally answers.

Rows
Each row corresponds to all the answers that a particular person has sent for a particular form.
You can scroll the table horizontally (with the mouse or keyboard) to view the data that does not fit within the screen.
To display all the information at once, use the Cards option. Scroll vertically to consult all the answers. The Arrow icon hides and shows a card.

The Pin icon allows you to mark or unmark answers. This can be helpful to highlight an answer or a group of answers for future reference.
Edit answers by clicking on them.
Edit button puts the display in Edit mode. Edit mode allows you to:
Delete answers
View fields previously deleted by an Editor
Trash icon button deletes one answer.

Note that when you click once, the button change its color to yellow. If you click a second time, the button turns red and finally, the third time you click the button the answer is deleted.

Delete all button allows you delete all of the form's answers.
This option is displayed when a field previously deleted by the Editor already contained collected data.
Use the Graphs button to visualize the answers graphically. See Graphs
Answers can be downloaded in three different formats
CSV is a common data exchange format that is supported by a wide range of applications. A downloaded CSV file can be imported into a spreadsheet.
JSON is an open standard file format and data interchange format often used by software developers and data analysts.
The PDF button displays options to create a PDF file.
Answers can be filtered, ordered by field data, and the order in which the fields are displayed can be customized.